Potato
Game Modes
Only Survival Mode
Type of Items
Food
Restores
0.5 Hunger Bar
Cookable
Yes
Stackable
Yes
Description
Edit
Potato is a type of food, dropped by Zombies and Pumpkin-Heads with probability in 2.5%. Each Potato restores 0.5 units of
Hunger Bar.
As a Cooking Ingredient
Edit
Potato has to be cooked in a Furnace to yield Baked Potato, which restores more units of Hunger Bar.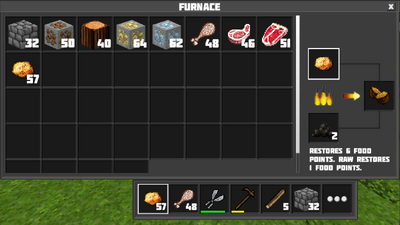 Potato farming takes 8 stages to grow. But only 4 stages are visible for the player. Every two stages have the same texture, except that growth stage 7 keeps the same appearance as stages 5-6, so that only stage 8 has the final, 'mature' appearance.
Fully grown potato crops drop 1 to 3 potatoes. It has 2% chance of dropping additional poisonous potato.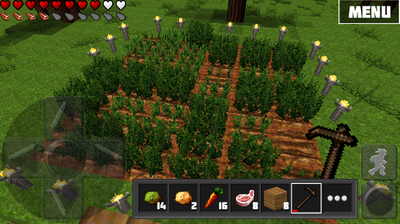 Ad blocker interference detected!
Wikia is a free-to-use site that makes money from advertising. We have a modified experience for viewers using ad blockers

Wikia is not accessible if you've made further modifications. Remove the custom ad blocker rule(s) and the page will load as expected.